Ann Geens & Carla Jong:
Transition to sustainable industry in a clean environment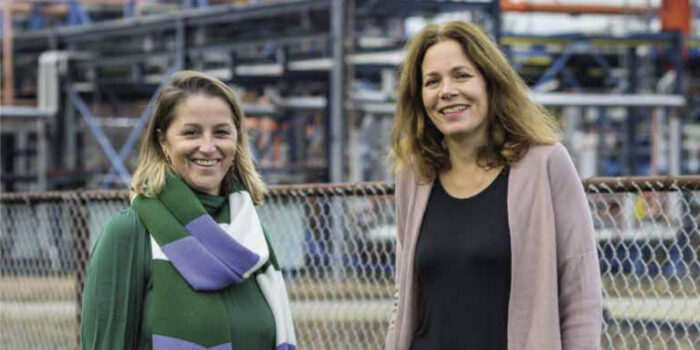 In a society that increasingly views industry as a necessary evil, it is difficult to get your positive message across clearly. Ann Geens, managing director of Ducor Petrochemicals Botlek, has experienced this. The company became a scapegoat for plastic granule pollution. The tide now seems to have turned for Ducor: the company has received compliments for the improvements it has made from both environmental movements and the government.
The Ducor company is literally and figuratively at the heart of society. Firstly, because it supplies semi-finished products from which all kinds of common consumer products are made. Secondly, because it is a social employer. And last but not least, because the company takes responsibility when it comes to pollution. This has resulted in the Taskforce Clean Sweep Rotterdam: an initiative to clean up plastic granules from the port area.
Pollution
Ann Geens still remembers it well: it was 2019 and the NOS (Nederlandse Omroep Stichting – one of the broadcasting organisations making up the Netherlands Public Broadcasting system) was at the gate asking for an explanation about pollution caused by floating plastic granules in the Rotterdam port area. The reason was an enforcement request made by the Plastic Soup Foundation. "To be honest, after I recovered from the shock, the Plastic Soup Foundation really opened my eyes", says Geens. Because actually, they had a good point to make. We found a lot of plastic granules in the wide perimeter of our site during our first cleaning campaign. But only some of these came from Ducor. So I decided to invite all the plastic producers, processors and transporters from the region to take a more holistic approach to the problem."
"We need to be
more open to
the environment."
Action
In any case, the company has been very energetic, both inside and outside the gate. Ann: "Straight away, I put someone on the job full-time. We implemented measures to prevent pollution in order to supplement the clean-up campaigns. For example, we made our loading hoses longer to reduce spillage during lorry loading. We also installed grids and filter bags in our rainwater drainage system. But it's not just about the technology; we ran an awareness campaign among our employees; and we carried out a 5S clean-up programme, which is a structured method for maintaining a clean and tidy workplace. All in all, this resulted in a much cleaner working environment in which virtually no plastic granules are now released into the environment."
Taking a broader approach
To tackle the problem more broadly, the Taskforce Clean Sweep Rotterdam was established with Ann Geens as chairman and Deltalinqs as taskforce co-initiator. Carla Jong, environmental & sustainability policy advisor at Deltalinqs: "We are doing this by working with Port of Rotterdam Authority, the Municipality of Rotterdam, PlasticsEurope Nederland, DCMR, LyondellBasell, Shin-Etsu, Huntsman, Lucite International, Rotterdam Polymer Hub, Bertschi, Vredeveld, Aber Logistics, Hebo Maritiemservice and Rijkswaterstaat. A clean environment is the raison d'être of Deltalinqs and its members, and we are happy to contribute to solving this problem." The core group held its first digital meetings and is now working on a number of themes, such as awareness, enforcement, historical pollution and clean-up, sharing best practice, communication and regulation. It was sometimes difficult in the beginning to bring the companies together. "Unfortunately, a number of companies saw participating as an admission of guilt and were afraid of the consequences," says Ann. "Or they didn't even see how they were partly to blame for the pollution; a view we have sympathy with because after all, we were also blind until the Plastic Soup Foundation came to us and pointed it out. But we now have the involvement of the companies and the first results are starting to be seen."
Change
It is quite something for Ducor to transform from having "company blindness" and a defensive attitude to an open and active attitude. According to Carla: "Of course, the times we live in are such that a company should no longer be allowed to pollute its environment, but government agencies that should have supervised this have not paid sufficient attention to it. Everything is strictly regulated for hazardous substances, but not for plastic granules. It is difficult to explain how this polluting practise has been able to take place for years. As an industry, we are really lagging behind. We need to be more open to the environment. At the same time, industry is not very good at communicating about the social significance of its products, even though this does exist. The environmental movement is much better at this with their beautiful and catchy films. For example, these wonderful films are made with equipment produced by our industry. Unfortunately, industry is a bit too businesslike with its love of data sheets full of facts and figures. Notwithstanding, I admire the way Ducor handles it, and I'm not afraid to admit at the same time that there is a mess that needs to be cleaned up. This is a transition too: from the aforementioned "company blindness" to making companies more sustainable. It is important to transform into an industry that is aware of its impact on the environment and recognises that it needs to be cleaner."
Raw materials transition
The admiration is mutual. "I think it is important to sit around the table with Deltalinqs", says Ann. "They have excellent insight into all the companies in the Rotterdam port area. Deltalinqs helped us set up the Taskforce and help us hold webinars on best practice. And, just as important, they are a mediator between industry and government." Carla agrees: "Indeed, it is easier for us than it is for an individual company to talk to DCMR. Especially if a specific case is particularly sensitive."
It is possible that Deltalinqs may start working for Ducor in another context soon because, during the interview, it appears Ducor has money available to invest in chemical recycling, an important element in the raw materials transition. Ann: "There is a vacant lot next door. But we can't currently get a permit because we are at our nitrogen limit. We hope another company will do this here, but there is a bottleneck." "It's good of you to say that," Carla responds, "this is exactly what interests me, and I want to discuss it with the government."
A new coalition agreement
The new cabinet promises to strengthen the business community and the business climate; at the same time, it is asking companies to make their fair contribution and take people and the living environment into account. The Taskforce Clean Sweep Rotterdam is a wonderful answer to this, with industry taking responsibility itself.
The nitrogen crisis is being tackled structurally with a generous fund. However, in the short term, this will not provide sufficient scope for the sustainability project referred to in this article.
Ann Geens has a financial-economic background. When she started working as a financial manager at the predecessor of Ducor, she quickly felt at home in the process industry. She has been managing director of Ducor Petrochemicals Botlek for six years now.
As the Deltalinqs Environment & Sustainability policy advisor, Carla Jong keeps a close eye on all environmental legislation developments for the port and industry. She regularly consults with companies and government about this to arrive at effective and workable regulations.
Want to know more about our sustainability efforts?
Neem gerust een kijkje op de webpagina over onze 'Sustainability Challenges 2030'
Do you have more questions, mail us at info@ducorchem.com